Engrave Marketplace - buy top-level domains with Hive or HBD and start blogging like a PRO!
Providing real-life use cases for HIVE is crucial for our ecosystem to grow. So here is Engrave - delivering the fastest and easiest way to spend HIVE or HBD tokens for a real product, the domain name for your blog. Within over 500 TLDs supported, you will find a perfect domain for your needs!
Also called dBlog (dblog.org) - Engrave is a blogging platform with custom domains and themes. It's not a generic Hive interface. It's an equivalent of Blogger or Blogspot but powered directly by Hive blockchain. Users can quickly log in and create blogs with custom domains and appearance. You can create a blog, import your Hive posts, and set up your page within a few clicks.
Those websites are powered by Engrave:
You can also cooperate with other people within a single blog - create a professional website powered by Hive within seconds, effortless.
You can read more about Engrave on our official blog: https://blog.engrave.dev
Custom domain in two steps
Using custom domains was possible with Engrave for a long time. But you had to deal with registration and DNS records on your own. I want to make the Engrave experience as easy and smooth as possible, so I designed the Domains Marketplace.
Visit Engrave Dashboard: https://dashboard.dblog.org
1. Find perfect domain
Finding the best-suited domain couldn't be easier - type an interesting phrase and click the "Search" button. We will suggest multiple options with multiple TLDs. Please choose the one (or more!) which suits you best and reserve it with a single click. It will appear on the "Your domains" list with the "Awaiting payment" status.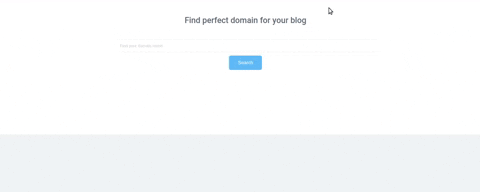 We support over 500 TLDs, including non-standard one like .beer, .diet, .pics, .bike, .technology, .live and so on. You will definitely find a domain for you.
The registration price depends on the domain TLD, and you can decide which one is interesting for you. Just have in mind that you register the domain for a year and want to renew it after this time.
Take renewal price into consideration - sometimes, it's better to pay a little more for a much smaller renewal price.
2. Pay for it using HIVE or HBD
When reserved, the domain appears on your domains list. You will see two buttons which will redirect you to Hivesigner with ready to process payments template. Just authorize the transfer, and you're done.
Few seconds after the payment, your reserved domain will be automatically registered and configured to work with dBlog. A few seconds later, you can start using it and connect it to your blog. Engrave will also automatically generate SSL certificates so your readers could securely access your blog. It is designed to be effortless, and it is.
Connect it to your blog
Visit your blog settings, add a newly registered domain and save it. That's it. Your blog will be accessible immediately under a new domain.
---
Vote for @engrave witness
My witness node is running on two dedicated servers in two different locations:
Primary non-MIRA:
Intel Xeon E3-1275v5
2x SSD SATA 480 GB
64GB RAM DDR4
Backup with MIRA:
Intel Core i7-4770
2x SSD SATA 256 GB
32GB RAM DDR3
I'm also participating in the latest testnet to test incoming Hard Fork release before it happens.
If you find my person, projects, and commitment useful, you can support me with your witness vote.
---
Click on the image to vote:

Dont forget to follow @engrave account!